Welcome to Magnolia House, Saint George,
an historic B & B with an emphasis on pop culture.
Planning an overnight in NYC? Blood Moon proudly announces its affiliation with Magnolia House, a historic Bed and Breakfast with lots of emphasis on pop culture and the book trades, within a short ferryboat ride from the financial district of Lower Manhattan.
Magnolia House results from the owner's 30-year role as co-author of many titles, and many editions, of The Frommer Guides, each of which included evaluations of the bed and breakfast inns of Europe. Whereas he's still writing and publishing travel articles and celebrity exposés from the landmark's upper floors, its "showcase rooms" now operate as a client-indulgent B&B loaded with mementos from the early days of the Frommer Guides and "The Golden Age of Travel.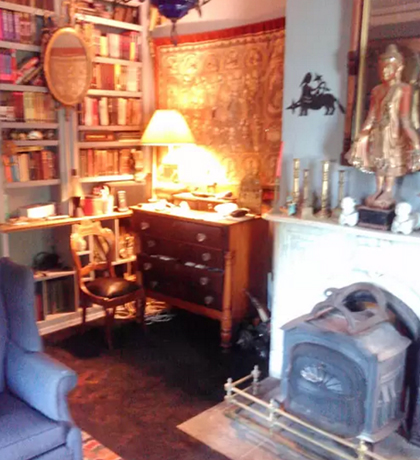 The Library, with its wood-burning stove: Warm, compelling, and intimate. Reading and literacy are alive and well at Magnolia House!
Danforth Prince is a liberal, media-conscious NYC writer, editor, and president of an independent small press specializing in celebrity biographies. Danforth is the resident manager of an elaborate historic home with gardens and available space--both in my heart and in my agenda--for the housing, protection, and entertainment of temporary visitors to New York City. Whereas his office and residence are on the upper floors, AirBnB guests occupy the rather grand formal areas on the ground floor. Lower Manhattan is easily accessible via a ten-minute walk and a 22-minute (free) ferryboat ride. This is country living in the city, with lots of cultural, historic, and razzmatazz literary sideshows.
Magnolia House results from Dan's 30-year role as co-author of many titles, and many editions, of The Frommer Guides, each of which included evaluations of the bed and breakfast inns of Europe.
Edgy media associations have always been part of the Magnolia House experience. Previous guests have included Tennessee Williams ("Magnolia House reminds me of Blanche DuBois' lost plantation, Bellereve!"), golden age film personality Joan Blondell (a close friend of celebrity biographer and co-owner, Darwin Porter), Lucille Lortel (the philanthropic but very temperamental Queen of Off-Broadway), the very outspoken Jolie Gabor (mother of the three "Bombshells from Budapest" otherwise known as Zsa Zsa, Eva, and Magda) and a host of other stars, starlettes, and demi-mondains of all descriptions and persuasions.
Conjoining this rambling old house with the hospitality trades is a logical move, considering how inter-related the memorabilia is. And after years researching and writing the world's pre-eminent travel series, Dan is alert to the hopes, dreams, needs, and aesthetics of temporary visitors.
Magnolia Moments
With Guests at Magnolia House
It's getting creepier and creepier around here...

Keeping Up with the Clauses

It's beginning to look a lot like Christmas at Magnolia House. A film crew recently set up in the Green Room to film backgrounds for a Mars M&M'S commercial ad spot slated to be aired in the weeks before Christmas. We woul;d love to use the adorable candy-coated chocolate characters in this blurb but we are scared to death of the lawyers Mars Candy has at their disposal. We do not want to step on any legal toes. Read more here...
---
Magnolia Moment #1. Film News from Magnolia House in Staten Island: Blood Moon proudly announces THE DREAM EATER. A short horror movie filmed on location at historic Magnolia House (Blood Moon's headquarters) by a distinguished corps of experimental French-speaking filmmakers in September of 2019, it recently won a gaggle of recognition from film festivals everywhere.
After the brouhahas and the OOOOH LA LA's, how did it go? Learn more about horror filming, movie-making "à la française," and a celebrity-savvy ode to Magnolia Magic in this quirky three-minute film.
What, might you ask, is Blood Moon Productions? It's an independent press whose award-winning biographies (so far, more than 50 of them) are rewriting the history of classic Hollywood, one movie star at a time. It's a tough job, but somebody has to do it.
Magnolia Moment #2. CONFICIANISM and MAGNOLIA MAGIC Recent overnight guests from Confucius' hometown of Shang Dong Province recently worked with Danforth Prince to publicize Magnolia House, a "celebrity-centric AirBnb with links to the book trades," and for insights into the NEW CHINA and how it reveres the past. Here's the story.
Magnolia Moment #3. SONGS OF CHINA In August of 2019, after architects and emissaries from China checked into Blood Moon's AirBnb—New York's historic MAGNOLIA HOUSE—Danforth Prince and Henry Song decided to make a movie about international relations and show-biz. Here's the story.
Magnolia Moment #4. THE VIKINGS, (I MEAN "THE DANES") ARE INVADING MANHATTAN and Magnolia House re-cently accommodated a passel of them. See how its innkeeper coped with I LOVE DENMARK in dialogues with Karin Muller, Danish Nationalist, Architectural Enthusiast, and Historian.
Magnolia Moment #5. PUMPKIN, MON AMOUR: What REALLY happened at Magnolia House when Halloween, the Presi-dential Elections, and fallout from the release of Blood Moon's radical new exposé of Donald Trump ALL COINCIDED? MEET PUMPKIN, newest member of Blood Moon's extended family. She's seven, she's a star, she's a child with special needs, and she's MY PUMPKIN.

William · November 2021
Staying at The Magnolia House hosted by Danforth was a wonderful experience. My wife and I stayed here for a week. We enjoyed living with the artwork, the antiques, and in the grand old house. We lit a fire in the wood stove and enjoyed a drink on the veranda which overlooks lower Manhattan. You are minutes away from the SI Ferry and fine dining like Beso and Blue. Parking is the only challenge which is already forgotten. Thank you Danforth, you are a Prince.
Charles · October 2021

The Magnolia House is an experience like no other. Don't expect this to be your usual airbnb. Instead, you'll feel you're entering a movie set. Step through the doorway of this grand old dame into history, adventure, and an eclectic array of worldwide treasures with a host that makes it all come alive. Dan is the wonderful host eager to please and always ready with an intriguing Magnolia House story. We were two couples reconnecting for a 50th Wagner College reunion and this was the perfect place to meet. Upon our arrival, we found the fridge well-stocked and a delivery each morning of a fresh fruit salad and eggs. There's a mini-fridge, microwave, coffeemaker, and toaster but, no formal kitchen, which was fine for us since we ate all our meals out anyway. Our private rooms (and ensuites) were joined by a central living room and also a porch for sitting and reliving old memories. The location of the house couldn't be any better…only an 11 minute drive from the college and a short walk to the Staten Island Ferry. Magnolia House is not a modern 5-star "cookie cutter" national hotel, but instead a unique experience that will evoke dear memories for years to come.
Jill · September 2021

Magnolia House at Saint George is a grande dame who has borne witness to American politics, filmmaking, and writing since before the Civil War. Situated atop a hill in the Saint George neighborhood of Staten Island, she was built in the 1840s when the area was a thriving summer resort. Magnolia House is wildly unlike any AirBnB we have ever visited, a place you experience to imagine yourselves in the company of those who came before, such as writers Henry James and Theodore Dreiser, actress Pearl White (star of The Perils of Pauline), filmmaker Edwin Porter, and prominent political figures. Perhaps the greatest honor of a stay at Magnolia House was to be the guest of the two authors who wrote the book on the place. Danforth Prince is the Innkeeper and president of Blood Moon Productions (a publishing venture) and Darwin Porter is the famous writer who lives on the third floor and who every morning created for us a magnificent fruit bowl for breakfast. Chatting with Danforth was the high point of our visit. He is the consummate host who makes his guests feel very welcome. Naturally, aged grande dames have their idiosyncrasies, which call for tolerance. But of course it would be discourteous to speak of such things. But we can say that our experience at Magnolia House was grand. It was a pleasure and a privilege which we will never forget. We highly recommend that our fellow adventurous travels stay in this "one of a kind" AirBnB for a truly unique experience.
Ted · Septembeer 2021
I'm a retired NYC firefighter. My girlfriend and her son and I were coming back to NYC for a couple of days for the 20th anniversary of 9/11. We usually stay with friends or family when we visit the city but logistics and proximity weren't working out this time. I wanted a place close to transportation to Lower Manhattan that would also accommodate a second bedroom for my girlfriend's son. Mr. Prince was extremely courteous and gracious from the start. His communication was excellent. The check in process was simple, and the place is over the top interesting! We had ice, snacks, freshly made fruit salad in the morning, and a second floor porch with a refrigerator and a view of the Freedom Tower across NY Harbor. Many good restaurants are close by and the Staten Island Ferry is also just a few minutes' walk. Mr. Prince is an extremely interesting person and he put in a lot of work to make his place a very unique location. The house is full of personality and has a hell of a history. If I had my truck with me I would have offered to buy some of the decor… Definitely one of the most unique places I've ever slept, I would recommend it. Thanks again!
Denise · September 2021
We had a most enjoyable stay at the Magnolia House. My daughter and I planned a surprise visit for my oldest daughter who attends Wagner College. Danforth assisted with the execution of our plan and it was a great success. He even procured my special beverage request in advance. While Danforth respected our family time, he continued to take good care of us. It was a delight getting to know Danforth and we so appreciated his generous hospitality.
I most loved my morning coffee out on the deck and the fruit and eggs provided for breakfast, not to mention the extra sweets were a delight. The home is walking distance to the Empire outlets, the Ferry and appetizing dining experiences. If you appreciate historical homes and antiquities with a tale, you will enjoy the Magnolia House.
Erik · September 2021

You can see the Statue of Liberty, Empire state building, and the World Trade Center from the balcony!
Presently, with the understanding that we're committed to keeping prices reasonable within an economy where mainstream NYC Hotels are staggeringly expensive, we're funneling reservations through AirBnb, a popular booking service that keeps payment and booking rituals simple.
For rates, more information, and bookings, click here. You can also contact us here: DanforthPrince@gmail.com

This is the first in Blood Moon's "Magnolia House Series," chatty, ironic, and irreverent memoirs in which the authors (as filtered through the historic monument that sheltered them) review the icons and divas they encountered during their course of their work in travel and show-biz publishing. It's an overview of the seismic ironies associated with celebrity, fame and circumstance.
This is an "only in America" story, a sophisticated, witty overview direct from the high-octane peak of "The American Century." Loaded with gossip, some of it extracted from Blood Moon's award-winning backlist of celebrity biographies, it's about the famous or notorious players, some of them tragic, whose "talents to amuse" helped make America Great.
Click here to purchase a copy of Celebrity & The Ironies of Fame.